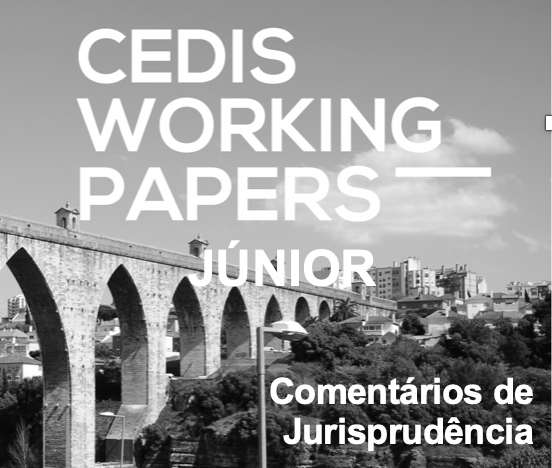 A mulher e sua (des)proteção nos tribunais – notas sobre algumas decisões judiciais insustentáveis
CEDIS Working Paper Júnior – Comentário de Jurisprudência n.º 4 – maio de 2019
Autor: Raquel Burgoa Dias
RESUMO
Neste artigo pretende-se refletir sobre 5 acórdãos recentes que foram abordados na Disciplina de Introdução ao Direito e Pensamento Jurídico com a Professora Soraya Nour Sckell .
Decisões e fundamentações que merecem censura pelos seus contornos preocupantes e a sua "insustentável leveza do ser Direito" ao perpetuar a exclusão e menorização da mulher. Pretende-se através desta recopilação de decisões judiciais identificar as dificuldades surgidas na resolução de casos reais que incidem sobre mulheres. Casos que interpelam o Direito- a sua aplicação pelos tribunais- a buscarem para eles uma solução e fundamentação justa. Desde logo, porque aqui, paradoxalmente, a jurisprudência longe de (re)criar a ordem e pacificação social provoca uma intensificação das desigualdades.
Estes casos, e os seus diversos contextos, são exemplos de até que ponto uma decisão judicial arquitectada no âmbito de uma dada visão histórica-social e perfil do julgador não consegue responder adequadamente aos desafios do mundo de hoje.
Nos casos judiciais que servirão de base a esta reflexão e notas torna-se, bem claro, um excesso de "liberalismo (arbítrio) judiciário" na proteção da mulher.
Mostram-se cinco exemplos. O primeiro caso se debruça sobre o abandono escolar das meninas ciganas. O segundo (caso Lubanga) sobre a proteção concedida às crianças soldados (masculinas) e desproteção frente à violência sexual contra as meninas soldados. No terceiro caso, mostra-se uma interpretação discriminatória da lei, de desigualdade, agravada por preconceitos e estereótipos que inferiorizam a mulher de idade no reconhecimento de uma indemnização devida por danos não patrimoniais (por incapacidade para relacionamento sexual). O quarto caso reporta-se a um caso de violação que culpabiliza a vítima e desculpabiliza os autores. Por último, na mesma linha desculpabilizante dos autores, outro inquietante acórdão relativo a um caso de violência doméstica revelador de como os tribunais não sabem valorar estes casos porque estão amarrados à sua cultura e a uma valoração muito mitigada da responsabilidade.
Como estas análises mostraram persiste, ainda, na jurisprudência, um padrão interpretativo de referência construído pelo homem e por uma visão de desigualdade. Trata-se de uma postura muito tradicionalista que perpetua uma estrutura patriarcal, hierarquizada, com base na desigualdade e inferioridade das mulheres.
Esta visão judicial banaliza e desrespeita o princípio da igualdade (material) e deixa de fora uma compreensão universalista das normas que não possibilita uma igualdade efetiva.
A sociedade não pode permanecer/nem permanece insensível às injustiças sociais que se perpetuam através da aplicação do Direito (praxis judicial) como recentemente, se viu, a propósito do (justo) protesto pelas polémicas sentenças do juiz Neto de Moura.
Tratando-se embora de casos judiciais distintos, aflora um ponto comum: os decisores não rompem/não abandonam a sua visão pessoal/pré-compreensão do Direito culturalmente (de)formada. E, infelizmente, trata-se de uma jurisprudência (desadequada) que acarreta desvalorização da mulher e da sua proteção que não cumpre o objetivo de justiça nem a pacificação social. O que justifica a crítica jurídica e a atenção conferida pela sociedade, pois a Justiça "justa" julga no seu tempo.
PALAVRAS-CHAVE
jurisprudência, género, mulher, violência doméstica
Author: Raquel Burgoa Dias
ABSTRACT
This article intends to reflect on 5 recent judgments that were discussed in the discipline of introduction to law and legal thinking with the Teacher Soraya Nour Sckell.
Decisions and fundamentalizations that deserve censorship for their worrying contours and and its insustentável leveza do ser Direitoby perpetuating the exclusion and menorization of the woman. It is intended through this recopilation of judicial decisions to identify the difficulties arising in the resolution of real cases that concern women. Cases that challenge the law-its application by the courts-to seek for them a fair solution and justification. That way, because here, paradoxically, jurisprudence far from (re)creating order and social pacification causes an intensification of inequalities.
These cases, and their various contexts, are examples of the extent to which a judicial decision is architected in the context of a given historical-social view and profile of the judge cannot adequately respond to the challenges of today's world.
In judicial cases that will serve as a basis for this reflection and notes becomes, quite clear, an excess of "judicial liberalism (arbitration)" in the protection of women.
Here are five examples. The first case focuses on the school dropout of Roma girls. The second (Lubanga case) on the protection granted to child soldiers (male) and disprotection against sexual violence against soldiers girls. In the third case, it shows a discriminatory interpretation of the law, of inequality, aggravated by prejudices and stereotypes that inferiorize the old woman in the recognition of compensation due for non-patrimonial damages (due to incapacity for sexual intercourse). The fourth case reports a case of rape that blamed the victim and apologizes to the authors. . Lastly, in the same line of depredation as the authors, another disturbing judgment concerning a case of domestic violence reveals how the courts do not know how to assess these cases because they are tied to their culture and a very mitigated assessment of responsibility.
As these analyses have shown, still, persists in jurisprudence an interpretative pattern of reference built by man and a vision of inequality. It is a very traditionalist posture that perpetuates a patriarchal structure, hierarchized, based on the inequality and inferiority of women.
This judicial view banalizes and disrespects the principle of equality (material) and leaves out a universalistic understanding of the norms that do not allow effective equality.
Society cannot remain insensitive to social injustices that perpetuate itself through the application of law (judicial Praxis). As recently, it was seen, in the purpose of the (just) protest by the controversial sentences of Judge Neto de Moura.
In the case of separate judicial cases, a common point arises: The judges do not break/do not abandon their personal vision/pre-understanding of the culturally (de)formed law. And, unfortunately, it is a case-law (inadequate) that entails the devaluation of women and its protection which does not fulfil the objective of justice or social pacification. What justifies the legal criticism and the attention conferred by society, because justice "righteous" judges in its time.
KEYWORDS
jurisprudence, gender, woman, domestic violence