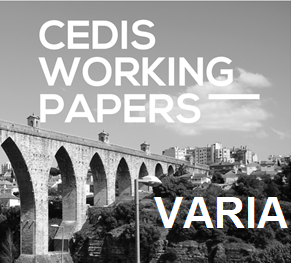 A RETÓRICA DE ARISTÓTELES
CEDIS Working Paper VARIA n.º 05 setembro 2021
Autores: Adriana Ramos Marta e Leonardo Silva Roda
RESUMO
Neste artigo, propomos uma análise geral da retórica aristotélica, sem descurar as ideias de Platão e a retórica dos Sofistas. Os tipos de discurso também foram um objetivo do nosso estudo, embora tenha sido dado um especial enfoque ao discurso jurídico/judicial e às suas partes, definidas por Aristóteles.
Além de "A Retórica" de Aristóteles, as obras de Barthes, Cícero, Ricoeur e Perelman foram os elementos de estudo para a realização deste artigo, uma vez que estes autores discorrem sobre a retórica e o discurso e, inevitavelmente, referem sempre Aristóteles e a sua obra.
As partes do discurso que Aristóteles definiu são lógicas e permitem ao orador cativar a atenção do auditório.
PALAVRAS-CHAVE
Aristóteles; Retórica; Discurso; Tópica; Análise do Discurso Jurídico
Authores: Adriana Ramos Marta e Leonardo Silva Roda
ABSTRACT
In this article, we propose a general analysis of the Aristotelian rhetoric, including the ideas of Plato and the rhetoric of the Sophists. The different types of discourse were taken into consideration when researching for this paper, however, we highlight the legal/judicial discourse and its different parts, as proposed by Aristotle.
Besides the "Rhetoric" of Aristotle, the works of Barthes, Cicero, and Perelman were also key elements in our research. These authors often discuss both rhetoric and discourse, inevitably mentioning Aristotle and his works.
Aristotle defines the different parts of the discourse as logical while also enabling the speaker to captivate the audience's attention.
KEYWORDS
Aristotle; Rhetoric; Discourse; Topoi; Legal Discourse Analyses