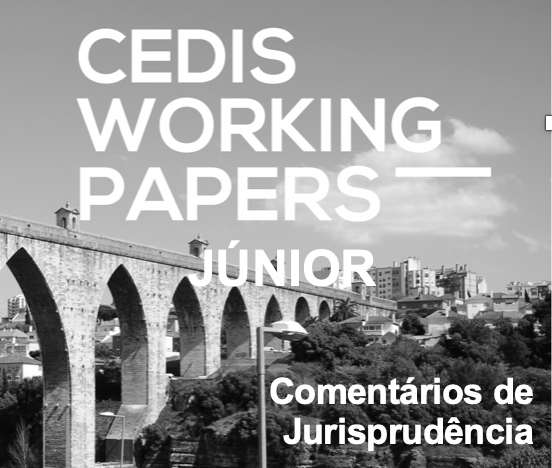 Comentário de Jurisprudência – Alojamento Local
CEDIS Working Paper Júnior – Comentário de Jurisprudência n.º 3 – maio de 2019
Autor: Luís Miguel Correia Pegado das Neves
RESUMO
Figura jurídica criada em 2008, mas verdadeiramente consubstanciada e impulsionada pelo histórico Decreto-Lei n.º 128/2014, de 29 de Agosto – entretanto duas vezes alterado, a última das quais, e mais extensiva, já em 2018 – o Alojamento Local vive tempos de considerável turbulência social, económica, jurídica e legislativa, resultante porventura de um certo confronto ideológico que, em última análise, põe em causa um direito fundamental: a propriedade privada. Tratando-se, ademais, de uma actividade económica relativamente recente, esta procura ainda o seu devido lugar, o que justifica muita desta instabilidade.
O acórdão em análise, emanado do Tribunal da Relação do Porto, remete para um caso de utilização como unidade de Alojamento Local (fiscalmente, uma prestação de serviços) de uma fracção autónoma em regime de propriedade horizontal, licenciada para habitação, cuja decisão foi desfavorável ao proprietário. Por comparação, confrontamos este com um processo análogo, desta feita julgado pelo Supremo Tribunal de Justiça, mas cujo resultado foi no sentido oposto.
PALAVRAS-CHAVE
alojamento local; habitação; propriedade horizontal.
Author: Luís Miguel Correia Pegado das Neves
ABSTRACT
A legal figure created in 2008, but truly embodied and driven by the historical Decree-Law n. º 128/2014, of 29 August – though twice changed, the last of which, and more extensive, as early as 2018 – the local accommodation lives times of hefty social, economic, legal and legislative turmoil stemming from a certain ideological confrontation that ultimately calls into question a fundamental right: private property. In addition to a relatively recent economic activity, this still seeks its proper place, which justifies much of this instability.
The judgment under review, emanated from the Tribunal da Relação do Porto, refers to a case of use as a local accommodation unit (fiscally, a provision of services) of an autonomous fraction under a horizontal property regime, licensed for housing, whose decision was unfavorable to the owner. By comparison, we confront this with an analogous process, this time around judged by the Portuguese Supreme Court of Justice, but whose result was in the opposite direction.
KEYWORDS
local accommodation; housing; horizontal property