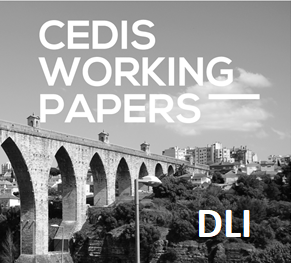 DIREITOS DAS MULHERES NA LUSOFONIA: COMPARAÇÃO DAS CONSTITUIÇÕES DE ANGOLA, MOÇAMBIQUE E CABO VERDE COM A CONSTITUIÇÃO PORTUGUESA
CEDIS Working Paper Direito, Lusofonia e Interculturalidade n.º 1 setembro 2017
Autor: Margarida Martins
RESUMO
A igualdade de género, cujo alcance é um dos objetivos da sociedade atual, potenciou mudanças sociais, políticas e económicas do papel da mulher, mas também a adoção de uma série de disposições de carácter legal, sendo de maior destaque as de teor constitucional, dado a sua primazia e carácter fundamental. A condição das mulheres tem vindo, tendencialmente, a evoluir positivamente, devido a fatores sociopolíticos, económicos, culturais e a uma conjuntura internacional favorável, mas também a um quadro jurídico que visa assegurar meios legais que potenciam a igualdade entre homens e mulheres e possibilitam a defesa contra, e a punição de, discriminação com base em género. A Constituição portuguesa de 1976 contém uma série de disposições que promovem a igualdade entre os sexos e por vezes, expressamente, os direitos das mulheres. As Constituições de Angola, de Moçambique e de Cabo Verde sofrem grande influência da Constituição Portuguesa, devido a um passado partilhado, portanto é possível encontrar semelhanças no domínio da igualdade de género e dos direitos das mulheres, mas são bastante evidentes, após análise dos textos constitucionais, algumas disparidades, sendo a Constituição de Angola mais limitadora e omissa em questões de género e as Constituições de Moçambique e Cabo Verde mais abrangentes e progressistas, contendo disposições inteira e especificamente dedicadas à igualdade de género e à discriminação positiva das mulheres, especialmente a Constituição moçambicana. No entanto, importa analisar o significado destas opções normativas e o vácuo entre a lei escrita e a sua aplicação real.
PALAVRAS CHAVE
Direitos das mulheres, Igualdade de Género, Desigualdade de Género, Constituição, Portugal, Angola, Moçambique, Cabo-Verde
CEDIS Working Paper Direito, Lusofonia e Interculturalidade ISSN 2184-1195
Women's Rights in the Lusosphere: A Comparison of the Constitutions of Angola, Mozambique and Cape Verde with the Portuguese Constitution
Author: Margarida Martins
ABSTRACT
Gender equality, which today's society strives to achieve, has fostered social, political and economic changes in the role of women, but also the adoption of a series of legal provisions, being constitutional ones the most prominent, given their primacy and fundamental status. The situation of women has tended to evolve positively, due to socio-political, economic and cultural factors and a favorable international environment, but also to a legal framework that seeks to ensure legal means that promote equality between men and women and allow the defense against, and punishment of, gender-based discrimination. The Portuguese Constitution of 1976 contains a series of provisions that promote equality between the sexes and sometimes, expressly, the women's rights. The Constitutions of Angola, Mozambique and Cape Verde are heavily influenced by the Portuguese Constitution, due to a shared past, and therefore it is possible to find similarities when it comes to gender equality and women's rights in these Constitutions. Notwithstanding, after analysis of these Constitutional texts, some disparities are quite evident, being the Constitution of Angola the most restrictive and suppressive in regard to gender issues, and being the Constitutions of Mozambique and Cape Verde the most comprehensive and progressive, containing provisions entirely and specifically dedicated to gender equality and positive discrimination favouring women, especially the Mozambican Constitution. However, it is important to analyze the meaning of these normative options and the vacuum between the written law and its application in real life.
KEYWORDS
Women's Rights, Gender Equality, Gender Inequality, Constitution, Portugal, Angola, Mozambique, Cape Verde
CEDIS Working Paper Direito, Lusofonia e Interculturalidade ISSN 2184-1195