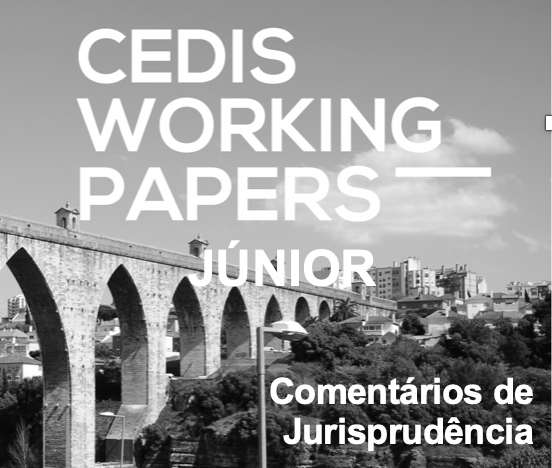 Reflexões sobre recentes acórdãos polémicos da justiça portuguesa
– As mulheres vítimas da Injustiça
CEDIS Working Paper Júnior – Comentário de Jurisprudência n.º 5 – maio de 2019
Autor: Patrícia Carril
RESUMO
Vários têm sido os acórdãos polémicos da Justiça Portuguesa, nomeadamente quando se trata de discriminação ou violência contra as mulheres. O presente trabalho reflete sobre alguns dos referidos acórdãos como forma de chamada de atenção para todos aqueles que ouvem e leem mas que nada fazem para mudar a Justiça Portuguesa e para levar justiça às vítimas que cada vez mais deixam de ter coragem ou apoio para denunciar abusos sofridos. Repletos de preconceitos, ideias de séculos anteriores e totalmente contrárias à igualdade e liberdade, direitos fundamentais de todos os seres humanos, os acórdãos analisados não refletem a justiça, não protegem as vítimas e deixam sair impunes os criminosos. Algo tem que ser feito. Eu comecei por esta reflexão.
PALAVRAS-CHAVE
Mulheres, Violência, Discriminação
Author: Patrícia Carril
ABSTRACT
Several have been the controversial judgments of Portuguese Justice, especially when it comes to discrimination or violence against women. The present work reflects on some of these judgments as a way of calling attention to all those who listen and read but do nothing to change the Portuguese Justice, and to bring justice to the victims who increasingly lose the courage or support to report suffered abuse. Filled with prejudices, ideas from previous centuries and totally contrary to equality and freedom, fundamental rights of all human beings, the judgments here analyzed do not reflect justice, do not protect the victims and let criminals go unpunished. Something has to be done. I started with this reflection.
KEYWORDS
Women, Violence, Discrimination