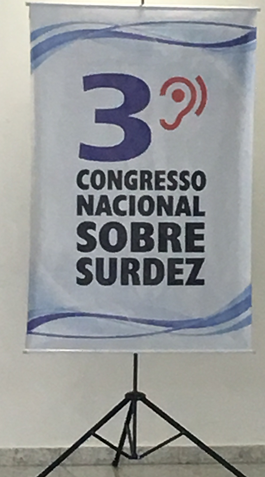 Participação de Investigadora do CEDIS no 3.º Congresso Nacional sobre Surdez
A nossa investigadora, a Doutoranda Marília Conti, participou no 3° Congresso Nacional sobre Surdez, evento realizado em São José dos Campos, estado de São Paulo/ Brasil durante os dias 20, 21 e 22 de julho.
Este congresso contou com a presença de nomes de destaque no campo dos Estudo Surdos, dentre os quais se podem incluir a Dra. Marianne Stumpf, doutora pela Universidade Federal do Rio Grande do Sul e pós doutora pela Universidade Católica Portuguesa e membro do Grupo de especialistas em línguas de sinais – World Federation of the Deaf e o Prof. Neivaldo Zovico, Coordenador Nacional de Acessibilidade para Surdos da Federação Nacional de Educação e Integração dos Surdos, além do Assessor da Deputada Federal Mara Gabrilli, Paulo Vieira.
A nossa investigadora apresentou o trabalho "A Surdez como Diferença na Lei Brasileira de Inclusão".