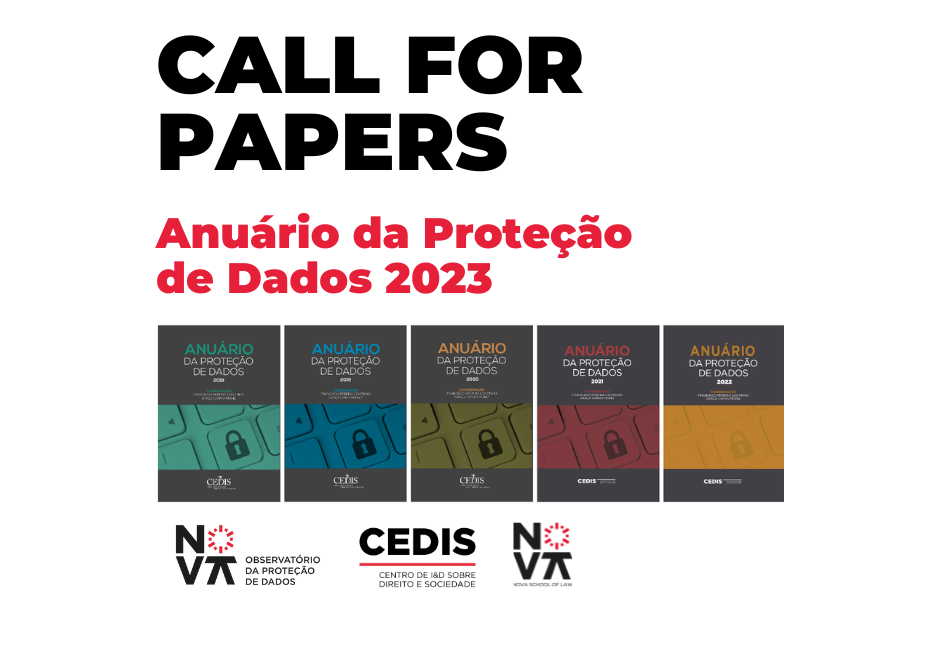 Deadline for submissions: 28 February 2023
The Observatory of Personal Data Protection of NOVA School of Law andCEDIS – Research Centre on Law and Society invite all those who are interested to submit proposals for articles to the "Yearbook of Data Protection – 2023". The submission of articles shall follow the following guidelines.
General guidelines for the submission of articles
1. Submissions related to specific themes of personal data protection or more general themes on law and technology will be accepted.
2. The proposals shall be written either in Portuguese or English by one or more authors.
3. Submissions shall be sent by e-mail to observatoriodadospessoais@novalaw.unl.pt, with "Call for Papers – Yearbook of Data Protection 2023" in the subject.
4. The texts received will be subject to prior evaluation by the Observatory of Personal Data Protection Coordinators (Francisco Pereira Coutinho and Graça Canto Moniz), in order to verify their adequacy.
5. The deadline for submissions is 28 February 2023.
Specific guidelines and editorial rules HERE