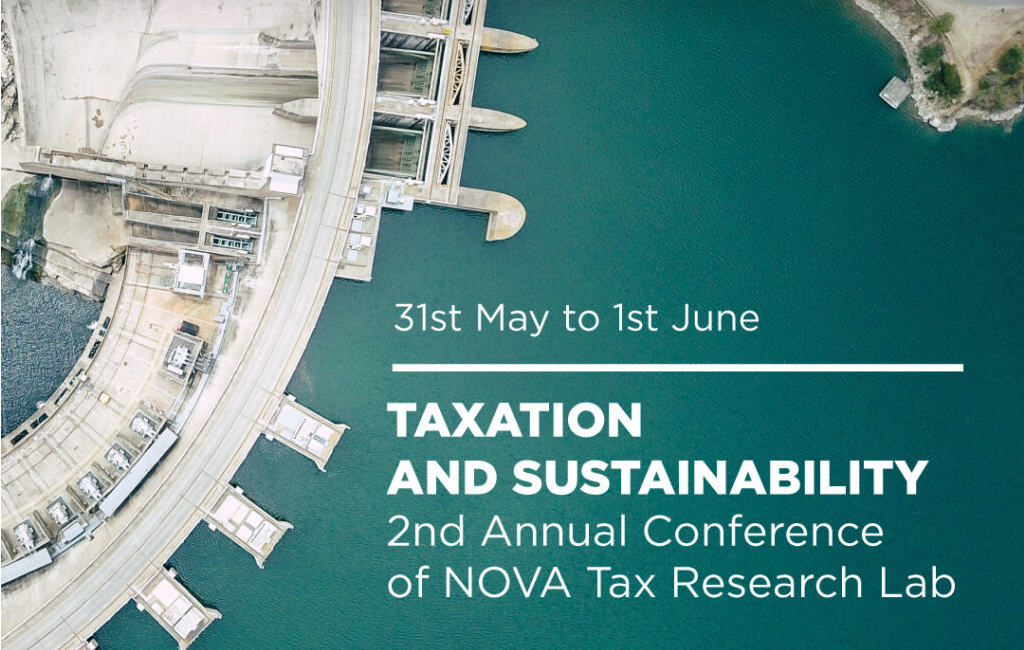 Taxation and sustainability
31 May and 1 June
NOVA Tax Research Lab, knowledge centre part of the Center for Research & Development on Law and Society (CEDIS) of NOVA School of Law, will hold its 2nd Annual Conference of the NOVA Tax Research Lab, to take place in Lisbon, from 31st of May to 1st of June.
This hybrid event (online and face-to-face) will take place in room 007 of NOVA School of Law, from 10:00 am to 5:30 pm (Lisbon time).
The conference will be dedicated to the theme "Taxation and Sustainability". To this end, the panels will be composed of specialists in the areas of tax and other areas related to sustainability.
The event has two objectives: (i) promoting reflection on some of the most pressing issues in the universe of public and fiscal policies and (ii) strengthening ties for potential collaborative research between researchers, collaborators and lines of research related to the theme.
The official conference languages are English and Portuguese.
To register as a listener, go to the event page here.
Scientific coordination
Diogo Feio, Assistant Professor at Academia Militar – IUM/ Guest Professor at NOVA School of Law/ NOVA Tax Research Lab Board Member
Rita Calçada Pires, Associate Professor NOVA School of Law/ NOVA Tax Research Lab Director
Mariana Passos Beraldo, NOVA School of Law PhD Candidate / FCT Research Fellow/ NOVA Tax Research Lab Board Member
Programme
31 May
10h00 | Opening Session
Nuno Santos Félix, Secretary of State for Fiscal Affairs (awaiting confirmation)
Margarida Lima Rego, NOVA School of Law Full Professor and Dean
Rita Calçada Pires, NOVA School of Law Associate Professor and President of the Pedagogical Council and NOVA Tax Research Lab Director
Diogo Feio, Academia Militar – IUM Assistant Professor, NOVA School of Law Guest Professor and NOVA Tax Research Lab Board Member
10h30 | 11h30
Panel 1: Development of sustainable tax policies
Moderator: Luís Castilho, NOVA Tax Research Lab Researcher and Lawyer at Belim Castilho Law Firm
Assunção Cristas, NOVA School of Law Associate Professor and NOVA Ocean Director
Afonso Arnaldo, Indirect Tax Partner at Deloitte Portugal
11h30 | 12h30
Panel 2: Challenges of Integrating Sustainability into International Taxation
Moderator: Joana Tavares de Oliveira, NOVA Tax Research Lab Researcher and Sonae MC Tax Lawyer
Francisco da Cunha, Tax Partner at Deloitte Luxembourg
Tatiana Falcão, Member of the UN Committee of Experts' Subcommittee on environmental taxation
12h30 | 14h30
Lunch Break
14h30 | 17h00
Working Groups – Speakers' presentation of the submitted and approved abstracts
1 June
10h00 | 12h30
Working Groups – Speakers' presentation of the submitted and approved abstracts
12h30 | 14h30
Lunch Break
14h30 | 15h30
Panel 3: Digital economy and sustainable business models
Moderator: Pedro Costa Monteiro, NOVA Tax Research Lab Researcher and Portuguese Tax Administration Legal Advisor
Diogo Feio, Academia Militar – IUM Assistant Professor, NOVA School of Law Guest Professor and NOVA Tax Research Lab Board Member
Inês Santos, IBM Consulting Portugal Sustainability Lead
16h00 | 17h00
Panel 4: Alignment of taxation with sustainable development goals
Moderator: Marta Carmo, NOVA Tax Research Lab Board Member and BPI S.A. Tax Lawyer
Denise Lucena Cavalcante, Universidade Federal do Ceará/Br – UFC Full Professor
Mariana Gouveia de Oliveira, Professional Partner at Abreu Advogados
17h10 – Closing Session
Joana Farrajota, NOVA School of Law Assistant Professor and Vice Dean
Diogo Feio, Academia Militar – IUM Assistant Professor, NOVA School of Law Guest Professor and NOVA Tax Research Lab Board Member