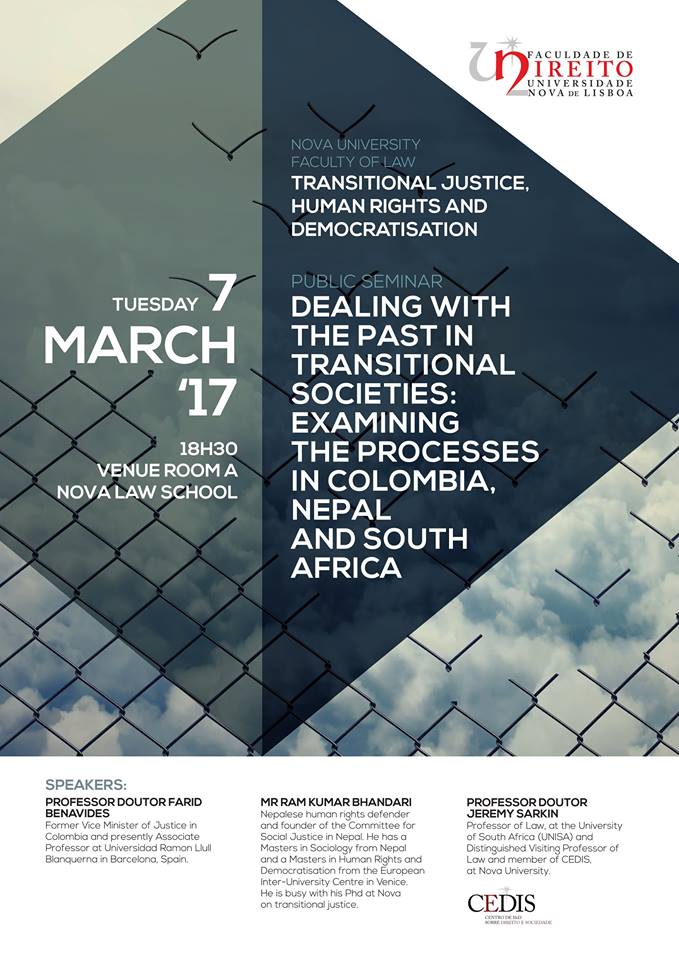 Dealing With the Past in Transitional Societies: Examining the Processes in Colombia, Nepal and South Africa
7 de março, 18h30 – NOVA Direito, Anfiteatro A
O seminário Dealing With the Past in Transitional Societies: Examining the Processes in Colombia, Nepal and South Africa irá dar a conhecer ao público a investigação desenvolvida, no CEDIS, na área da justiça de transição, direitos humanos e democratização.
O objetivo deste grupo de investigação é a investigação e a participação em eventos científicos relacionados com estes temas, num âmbito internacional, regional e doméstico. conduct research, and participate in other activities concerning Transitional Justice, Human Rights, and Democratisation around the world.
A natureza desta investigação será, primariamente, jurídica mas, sempre que necessário, assumirá uma perspetiva interdisciplinar.
A investigação irá debruçar-se sobre os últimos desenvolvimentos, problemas e assuntos relacionados com a justiça de transição, direitos humanos e democratização, de forma a contribuir para o estabelecimento de políticas, legislação e outras matérias de uma forma global. Alguns dos temas tratados incluem comissões de verdade e de procura de verdade, reparações, design e reforma institucional, garantias de não repetição, perseguições, reconciliação, desaparecimentos forçados, pessoas desaparecidas, a responsabilidade de proteger, igualdade de género e violência contra as mulheres, e direitos humanos e democratização em sociedades em transição.